eCommerce Conversion Rate Optimization
Bringing you the most advanced ecommerce conversion rate optimization for eCommerce
Scale-X is a eCommerce conversion rate optimization program that fully deployed using innovative technologies to disrupt conventional digital marketing.

We founded this CRO program after successfully scaled clients business with innovative technologies that helped to redesigned customer journey, buying behavior, sales psychology and world class web restructuring using latest Facebook and Google project.
How we approach eCommerce conversion rate optimization?

How ScaleX works?
The ScaleX optimisation cycle
The ScaleX technology stack and approach breakdown
As An Agency We Are Product to Provide
Growth Hacking Marketing Services To These Clients
SwellNomore.com
Restructuring web for Accelerated Mobile Pages using deep learning machine

Skull Shaver.com
eCommerce cart abandon rate is around 75%-85%

Skull Shaver Story
Case Study How Skullshaver recovered more than $15k of lost sales in 14 days with te shopify chatbot

Finally. A flexible shaver that adjusts with the contours of your skull.
The rotary, flex action blades on our shavers make these best electric shavers for your head and face. These flexible heades adjusts to the contours of your head perfectly comfortable and close shave every time.

The rising cost of acquiring customers through Facebook Ads
Prior to engaging with Shopisty, Skullshaver was putting all of their efforts into driving leads and sales through campaigns on Facebook. The company found it challenging to break the ceiling when they were seeing very low conversion, a souring 79% sales cart abandon rate.
"We were spending a lot on Facebook Ads in the past but due to rising coat of Facebook Ads, we find it becoming more expensive to reach out to audience in Facebook. We are looking for Ways to optimise our sales funnel but so far we haven't really seen any effective ways of improving our funnels."
Peter Gold, Skullshaver
Using chatbot to increase conversion
When Skullshaver and Shopisty started their work, they conducted a through audit of the funnel and noticed the very high add to cart drop-ot rate. Gerald formulated strategies for the quickest win by focussing first on reducing cart abandonment.

Gerald went on to discuss how shopisty could improve conversion by sending sales reminders. Through research into Skullshaver's ideal customers, the Shopisty team created a conversation script that speaks the language of their ideal customers. In December 2017, they deployed the first chatbot to test on small scale audience for a simple sales reminder. After the successful trail, they deployed a complete chatbot run 20 for days.
The following strategy was employed:
Within 20 days of running chatbot reminder, Shopisty became avital part of Skullshaver's sales funnel,ranking as the 4th best performing in sales. Since the chatbot was created to recover abandoned sales, it didn't generate fraffic but influneced buying behavour drastically.

From the Shopisty chatbot reminder eperiment within 20+ days, Skullsahver generaned more than $15,948 in sales through the chatbot assistant, had lowest bounce rate and more pages per sessions. Conversion rate from chatbot subscriber to sales waas crazily high, 9.37%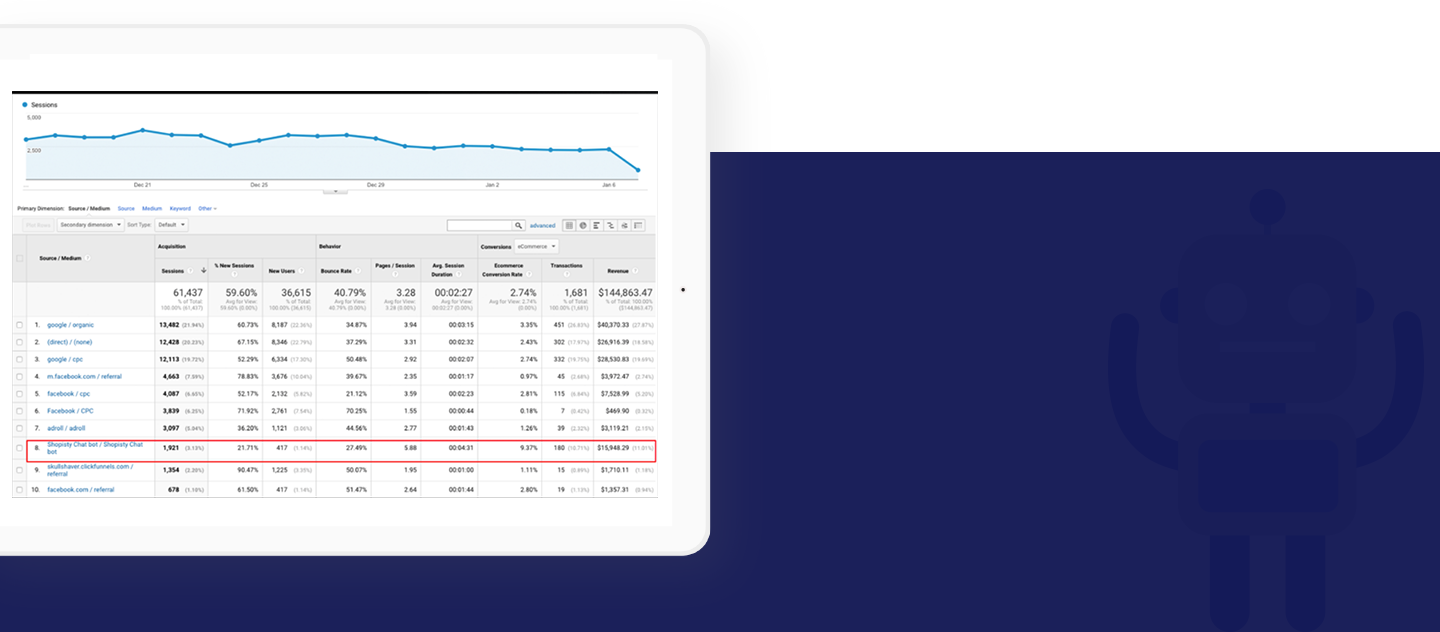 Timeline: 17 December - 7 January (20days)
Chat bot funnel to optimise user journey
Reviews +
Retargeting Strategy
Allowing reviews collection on automation and turn it into retargeting ads to drastically reduce CPA

Preview Gamification Strategy
27 March - 2nd April: Since launching review ads, the direct comparison NEW ads has 70% more purchases than the OLD ads competing with it.
We'd love to get in touch with you
Get A Free Consultation & Let's
Talk Strategies & Great Ideas!
We believe in forging long-term relationships with our clients, we want to ensure we can match your desired needs. we like to meet via SKYPE or a private email conversation with you to better understand your need. Fill in your contact details to get started!

We hope to hear from you soon!